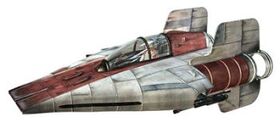 Developed over a considerable period of time, the Dodonna-Blissex RZ-1 A-Wing claims the title of the fastest standard-issue combat starfighter in the galaxy. With its low mass driven by a pair of high-yield Novaldex J-77 engines, the wedge-shaped craft can achieve tremendous velocities and is capable of extraordinarily precise manuvers. The engine itself has been christened the Event Horizon, and their production is a guarded facet. All of its internal componentry is implemented in a MinMaxOpt approach — the minimum amount of size with the maximum amount of output to optimize performance. For example, traditional Alliance starfighters utilize droids for navigation and repair. The A-Wing is forced to employ a complex navigation computer that has not been fully battle-tested and has no known reliability factor. In addition, there is no backup or redundancy; if a system breaks, there is little chance of having the means to repair it.
Coupled with its speed, a premier sensor package makes the A-Wing a valued craft. Fabritech initially upgraded their 5-series sensor units, but chose to develop the entirely new 7-series of packages. These packages sport better range, accuracy, and response than their previous siblings, in addition to being more compact and compatible with the high speeds that the A-Wing attains. However, since they are quite new, they are prone to glitches and failures, and unit replacement is far easier than unit repair. Republic techs have lately cut access panels into the hulls of A-Wings that facilitate swift removal and replacement of the entire ANs-7e sensor unit.
The fighter is most often employed as a reconnaissance interceptor. Its high speed allows it to drop into a zone, take scans, and elude pursuit, while the same speed characteristics enable it to intercept any threat rapidly. More and more, the A-Wing is placed into the "Hit and Fade" tactical role that the New Republic relies so heavily upon.

Craft ........ Alliance A-wing Starfighter
Type ......... Multi-Purpose Fighter  Cargo Capacity ......... 40 kg
Scale ........ Starfighter            Consumables ............ 1 week
Length ....... 9.6 meters             Hyperdrive Multiplier .. x1
Pilot Skill .. Starfighter Piloting   Hyperdrive Backup ...... None      
Crew ......... 1                      Nav Computer ........... Yes (2 jumps)
Passengers ... None                   Maneuverability ........ 4D
Hull ......... 80                     Space Movement ......... 120
Shields ...... 36                     Atmosphere ............. 450; 1300kmh
Can Land? .... Yes                    Hangar Space ........... None

Sensors ...... Normal:  1200,  Focus:  40,  Passive:  300

Weapon Skill ...... Starship Gunnery
Weapon Slots ...... 2 total (2 permanently filled)

Stock Weapons:
   Two Single Laser Cannons (fire-linked):
      Weapon Rating .... Class 4        Damage ........ 5D      
      Fire Arc ......... Front          Fire Control .. 3D
      Space Range ...... 1-3/12/25      Atmo Range .... 100-300m/1.2km/1.5km

   Enemy Targeting Jammer:
      Fire Arc ....... All              Fire Control .. 0D   
      Space Range .... 1-3/7/15         Atmo Range .... 100-300m/700m/1.5km
      Damage ......... -2D to other fire control (Starfighter Scale Only)
         
BASE COST NEW: 175000 cr             BASE COST USED: 52500 cr              
SUGGESTED DOWNPAYMENT: 105000 (new), 31500 (used)
Ad blocker interference detected!
Wikia is a free-to-use site that makes money from advertising. We have a modified experience for viewers using ad blockers

Wikia is not accessible if you've made further modifications. Remove the custom ad blocker rule(s) and the page will load as expected.